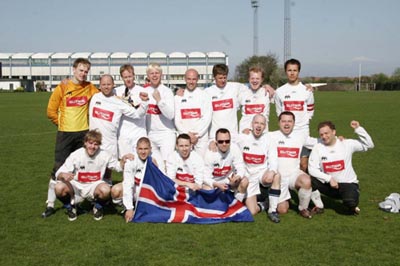 St. Styrmir is all about football, friendship and fair play. "St. Styrmir can be defined as a gay football team but everyone can join the team. We even have a few women and straight guys playing" says Alfred Hauksson, the team organizer. At the moment St. Styrmir is the only gay football (soccer) team in Iceland and is still at it's early age. "Haffi, the founder, used to live in London he played with a gay football team called Left-footers. When he moved back to Iceland he brought the idea with him and started the team" explains Alfred. "He put up an advertisement and 7 guys showed up for the first practice in June last summer" says Alfred.
We love football
Certain (team) sports have the bad reputation of being homophobic with many talented gay men giving up their carrier. St. Styrmir´s aim is to create a friendly and open venue where gay men and friends feel welcomed. When asked Alfreð says the guys playing have different background, are of all types and come in all shapes. You will find students, fire-fighters and bankers among others. The only thing uniting us is the fact we just want to play football. No requisites other than of course be gay or gay friendly.
Just for the fun
By the measure of number of players attending the team has been doing quite. Each time 20-30 players attend practices but the number of active players showing up quite frequently is about 40-50. "We observe clear improvements on monthly and even weekly basis" explains Alfred proudly. And St. Styrmis has high hopes and big dreams. Last fall the team traveled half the globe all the way to Argentina where it participated in the IGLFA World Championship Tournament. The team did quite well and came second in their group and qualified for the Division One elimination.
Visit St. Styrmir website to learn more about the team.