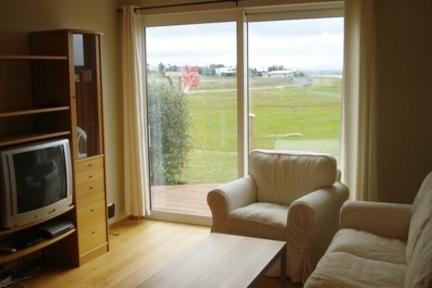 Bright studio apartment, 35 sqm. Private kitchen, bathroom and terrace. It has a large glass door which opens onto a veranda and a garden. The door faces south with a view over the bay.
Sleeping arrangement: A very nice up-built double bed with closets underneath. The neighborhood: It is located on the South-West side of Reykjavik city centre and very close to the University of Iceland.
Locality and attractions: Food stores nearby, open 24 hours. There is a swimming pool and a gym within walking distance. The cycling and walking path around the city is next to the apartment on the coastline. How to get there from the city center: Buses 12 and 15. There's a bus stop 100 meters from the apartment. It takes 3 minutes by bus to go to the city centre. Non-smoking apartment.
Please contact host: Baldur Thorhallsson
Email: This email address is being protected from spambots. You need JavaScript enabled to view it.
Tel: +354-8960010
Location: Starhagi 5
107 Reykajvik
Also, see: www.redappleapartments.com