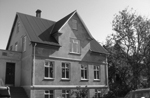 Visit Reykjavik and stay central at gay owned and run 32 Tungata, 101 Reykjavik. 3 minutes walk to Reykjavik visitor center, shops, services, restaurants and nightlife. With the free internet you can keep in touch with your Gayromeo friends or get to know some new in Reykjavik. The apartment is one of the best valued accomodations in downtown Reykjavik.
Stay private in an affordable 65 sqm. apartment where we can accomodate up to 4 people in 2 double bedsor in our new 36 sqm studio where we can accommodate 2-3 persons
Kitchen where you can sit down after a long day and cook and enjoy your own meals. Access to wireless internet free of chargeSmoking is not allowed in the apartment.
32 Tungata,
IS 101 Reykjavik
Iceland
www.tungata.com
This email address is being protected from spambots. You need JavaScript enabled to view it.
Tel: +354 8219353