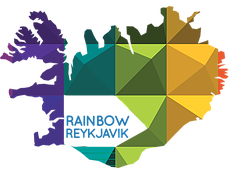 Amazing nature, nightlife and northern lights in fantastic international and local company. Waterfalls, erupting geysers, tectonic plates, the most popular party of the season, comedy, singing, exciting activities, world class cuisine and geothermal baths all neatly arranged over 3 glorious days.
This small pride festival is the perfect winter getaway and a great introduction to Iceland. Organized by Pink Iceland, "Iceland's first and foremost tour​ operator and travel agency dedicated to LGBTQI clientele".
The 8th annual Rainbow Reykjavik took place from March 8th  until the 10th 2019. Hopefully it will be back in 2022.
More information here: Rainbow Reykjavik 2019 + Pink Party
Visit  Rainbow Reykjavik website for tickets and more information.
Rainbow Reykjavik 2016 Highlights from Pink Iceland on Vimeo.
Rainbow Reykjavik 2016 Highlights