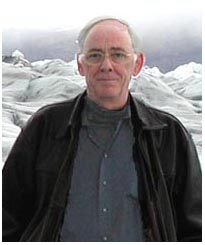 Reed Ide finds the overall ambience of Reykjavik very relaxing, he loves the Icelandic nature and thinks that Icelanders themselves are one of Iceland's biggest assets for visitors. He´s also the author of the Getaway travel guide to Iceland, a travel book written for the gay community which offers more than just an overview of the gay scene.
Gayice: Hi Reed, how are you these days?
Reed: I'm fine thank you. The horrible winter is over. The weather is warm. And New York is alive and well! I'm now very busy on our next book, GetawayGay Amsterdam.
Gayice: I´m glad you keep yourself busy! So, since your first visit you´ve been quite often to Iceland haven´t you?
Reed: Yes, I have been to Iceland several times since my first trip in 1999. That was a quick four-day trip I made to write a travel piece for "Passport," a gay and lesbian travel magazine here in the US. It happened in February, so my introduction to Iceland was a pretty cold one. GayIce: LOL...
Reed:It snowed just about every day I was there. Still, I really fell in love with Reykjavik, and the people I met there were great!
Gayice:So what did you do on your first visit?
Reed: Samtokin '78 had just moved into its new quarters at Laugavegur. In fact, they were busy putting down the floor tiles in the Rainbow Cafe when I first visited there. That same night, the cafe was open for business. On Saturday night, Veturlidi (from MSC) and Ingi (who then was the manager of Club 22) kept me out until 3:30 in the morning. Still, at 8:30 that same morning I actuall got on the bus for the Golden Circle Tour.
Gayice: That's the way to go!
Reed:The work of a writer can sometimes get in the way!
"The overall ambience I find very relaxing. Holiday trips for me are not all about running around from one must-see sight to another"
Gayice: And you keep coming back...?
Reed: For me, it is a combination of things that draws me back to Iceland. The overall ambience of Reykjavik I find very relaxing. Holiday trips for me are not all about running around from one must-see sight to another. And at my age I am not quite so frantic to get those new "sexual notches" on my belt (As it is, I've had to buy several new belts over the years!). I like a less frantic approach that allows me to really get to know a city and the people who live there.
Gayice: And has it been of any success?
Reed: I am quite content to spend a large part of an afternoon sitting in the Cafe Paris or Vegamot or Kaffi Brennslan chatting and by now I have several Icelandic friends.
Gayice: Whats your impression of the people here?
Reed: I think they are one of Iceland's biggest assets for visitors, they draw me back as well. People like Arni Einarsson from Room With A View. The guy is so totally helpful and really goes out of his way to make an outsider feel like an insider. Or Gudbjorg and her partner Juliette at Felicia's Flat. I spent an evening out at the family farm for horseback riding and a barbecue on one of my trips. Bara Kristinsdottir and her partner Arndis once sent me home with salmon they had caught on a river fishing trip. Hulda Birgisdottir from The Rainbow Cafe seems like a sister to me. And whenever I see Veturlidi Gudnason, it seems like we just pick up our conversation from where it left off on my previous visit. This kind of openess and inclusion makes a huge difference in a traveler's experience of a foreign country.
"Taken by the fresh air, the sound of the rushing river we sat up in the hotpot until 3 in the morning...It is like no other place I have ever been"
Gayice: What about life outside Reykjavik?
Reed: Awesome! Last spring I had the opportunity to drive the Ring Road with a friend of mine who is a geology professor here in the States. There is just no adequate way for me to describe that experience. Driving over the mountains on the Snaefellsnes Peninsula was incredible.
Gayice:Hopefully leaving you with some good memories...?
Reed: People in Iceland actually laugh when I tell them that the best night we had on that trip was in Blonduos. We arrived there around 7 at night, and found a delightful group of cabins right on the river. We were the only people staying there. Each cabin had its own hot pot and dry sauna. The air was fresh, the sound of the rushing river was the background music. We were so taken with it all that we sat up in the hotpot until 3 in the morning! Icelanders would have been proud of us -- we got quite drunk in the process.
Gayice: Hot pot and alcohol...sounds familiar! (laughs)
Reed: Akureyri was also great, and we met gay and lesbian people there who graciously took us out for dinner. But nothing could have prepared me for Dettifoss. We turned off the Ring Road and were confronted with a landscape that looks very much the way I imagine the moon to look. Miles and miles of grey earth and stones. Then, to suddenly make a turn, park the car, and find yourself at the top of that gorge with the thundering falls -- it was an incredible sight. I'd say "shock and awe," and its a better way to use the phrase than the way George Bush uses it!!

Every time we turned a corner on that trip there was a new landscape. The fjords, the valleys, the farms, the colors of the landscape, the glaciers, the steaming earth and bubbling mud holes. It is like no other place I have ever been! One thing -- those Esso stations along the way -- DREADFUL !!! Just awful. What else can I say
We wanted to write a book about a unique destination offering more than just an overview of the a gay scene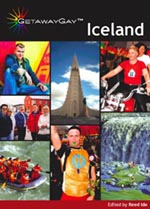 Gayice: Tell me a little bit about the book you edited that was recently published by GetawayGay. How did that all come about?
Reed: I started Queer & There Publishing late in 2002. Gay guidebooks come and go sporadically, and many are totally out of date. We wanted to publish guidebooks for our community that offered more than just an overview of the gay scene -- books that could actually be used the way one woulds use a "normal" guidebook.
Gayice: So is this the first book of many?
Reed: GetawayGay Iceland was our first book. We wanted a destination that was unique, not one of the "traditional" gay destinations. The strong queer community in Reykjavik, the city's cool atmosphere, and the nation's natural beauty combined to make Iceland an ideal destination with which to launch our project.
"There is so much more to our lives than just the scene"
Gayice: Is it something you wanted to do for a long time? Did you feel there was a demand for a book like this one?
Reed: I have always enjoyed travel and travel writing. Writing books like this seemed like a good "next step" for me. I think there is a demand for quality travel books within the gay community -- a demand for books that address the diversity among us. Much of the gay scene has become almost a cliche.
Gayice: Exactly...
Reed: A leather bar is a leather bar is a leather bar. A White Party is a White Party. There is so much more to our lives than just the scene.
Gayice: And there you speak for many of us i´m sure. So it was a work in progress?
Reed: Well, let's say it "became" a work in progress. Working for magazines and creating books are vastly different endeavors. We quickly discovered that we had a steeper learning curve than we expected. So it seemed at times that the Iceland book would never "fly." It took more months to do than we had hoped.
Gayice: Well, the book is out so it looks like the hard work is paying off?
Reed: ...and yes, I think we did accomplish our goal
Gayice: Can we expect something more from you in the future?
"Our books will remain for sale for two years, no more"
Reed: One of the commitments Queer & There has made is to not allow books to stay on the bookshelves so long that they become shamefully out of date. There are a few gay guides here in the States that were written more than 5 years ago but are still for sale. Talk about being out of date! So we have decided that our books will remain for sale for two years, no more.
Gayice: ...which means you guys are coming back...?
Reed: Late next year, we will revisit the Iceland project and decide if it makes sense to work on a revised and updated book. We hope and believe that the answer to that will be "yes." So, in all likelihood we will be back again. Maybe by then there will be a new gay venue in Reykjavik? In the mean time, we are moving forward with the Amsterdam book which will be published this summer. After that will come other destinations. But we'll let that be a surprise.

And with those words busy Reed takes off, challenging the unknown but knowing he´ll be back to Iceland sooner rather than later.