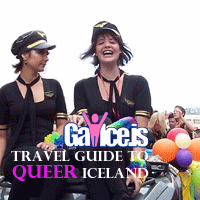 Lesbians are often not as visible as gay men when it comes to social life and the gay scene in general. Thats the impression a lot of us have but as Gayice.is found out when interviewing Guðbjörg Óttósdóttir member of KMK, Icelandic lesbians know how to keep themselves busy.
Gayice: Hello, how are you today?
GO: Hi, I am fine, thank you.
Gayice: So what is KMK all about?
GO: KMK or 'Konur með Konum' (Women with Women) is a social and entertainment group for lesbians living in Iceland. KMK´s mission is to strengthen the bonds between lesbians by providing ways for lesbians to meet each other.
Gayice: What do you do to strengthen these bonds?
GO: KMK organizes annual events, such as 'Góu Gleði' which is a lesbian ball (dance) taking place in March and a poetry-literature reading night in December. During the summer KMK sponsors fishing and camping trips. KMK puts on a few women´s dances during the year and hosts monthly bowling nights on Tuesdays.
Gayice: Ok, it sounds like you know how to keep you busy!
GO: There is also a group of women within KMK who meet informally to share and listen to classical music. Finally but not least, KMK sponsors a lesbian volleyball team.
Gayice: Volleyball team...tell us more about that!
GO: In May 2003 the team joined the European Gay Games in Copenhagen. In April this year the team will travel to Amsterdam, Holland to take part in a volleyball tournament.
Gayice: How old is the group?
GO: KMK as 'KMK' is 3 years old. But the group has been ongoing since the early 80´s
Gayice: How many members does the group host?
GO: Membership is informal and as such we don´t really keep a record of membership. If we are talking about each particular event then I would say that the number of women participating varies from 10 to 60 depending on the event [but about 160 are on KMK´s postlist with most of them participating in some events during the year]
Gayice: What about age...are most of you the same age...is there age diversity?
GO: KMK membership is non-formal and we honor diversity in terms of age, ethnicity and lifestyle. We encourage women to take an active part in putting on and organizing activities and events. Women of all ages participate in KMK events.
Gayice: And how successful has KMK been - would you say that KMK is an active social group?
GO:Yes, no doubt about that.
Gayice: So what events are coming up in the near future?
GO: There is an 'Ellen' evening at Samtökin78 (The Gay Community Center) on March 28th and then there is the annual 'Góa dance' on March 20th. Women can buy tickets for the dance at Samtokin78.
Gayice: What is the best and easiest way to join your group?
GO: Well, for information about regular and upcoming events its best to check our website on or contact one of the three KMK coordinators, Guðbjörg Ottósdóttir tel.
865-3390, Kristín Sævarsdóttir, tel: 898-3060 and Elaine McCrorie tel. 866-8474.
Gayice: Well, thats great - Good luck and thank you for your time!
GO: Thank you too.
© GayIce 2004