Heimir Már Petursson has been the on the frontline in making Reykjavik Gay Pride what it is. Since first held 1999 Reykjavik Gay Pride has become much bigger than anyone dared to believe it possibly could. In 1999 appriximately 1.500 people showed up and year later over 20.000 people attended the Pride Parade and outdoor convert. And since then it has just become bigger. Gayice asked Heimir Mar Petursson, Gay Pride´s CEO about past events and the upcoming 2004 event.
Gayice: I know you are already busy planning this year's (2004) event, tell us a little bit about Reykjavik Different Days
HMP: Different Days were established in the fall of '99 after the success of the Pride event in June that year, when a group of people from Samtökin 78 and MSC-Ísland decided to put on an outdoor concert down town to commemorate the 30th anniversary of the Stonewall uprising. Around 1.500 people attended that concert, a mix of gay and straight people. Considering our history it was a very good attendant. I was convinced we could do even better for the next year and that we should also have a Parade. So in the fall a group of people from Samtökin, MSC-Ísland, Women With Women and then the newly established Association of lesbians and gay men in the University of Iceland came together to plan the 2000 event.
Gayice: Are those the groups that organize the event today?
HMP: Different Days, the organizer of the Reykjavik Pride, is an independent organization. Each year five organizations and action groups choose their representatives to be on the pride committee, but the committee meetings are open for all.
Many afraid to put on a parade for the first time
HMP: In the fall of '99 we also joined InterPride, the International Organization of Pride Organizers at the annual conference in Glasgow. At the Conference in Glasgow we got a lot of ideas and great input for our first Parade. Even though many in our group were afraid to put on a parade for the first time we did and it was great. Around 15 thousand people came down town to watch and participate and we have been growing ever since, to more than 30 thousand in 2002.
Gayice: How many people do you think are involved in the preparation for the event this year?
HMP: It is kind of a misconception that it is a big group of people that organize the Pride. Since the beginning all the planning has been on the shoulders of five to ten people. And it is the same story everywhere in the world. Doing Pride is a volunteer work and it is never easy to get people to do volunteer work. People always seem to have more important things to do, like going to the swimming pool or to the movies. But when the event draws closer more people get involved in making numbers and floats for the parade. We the organizers do the footwork and make everything available and then the spark is ignited and the parade kind of grows from the grass root. So when Pride is coming closer I would guess some hundreds of people are doing their part, but the real preparation is done by five to ten people.
Gayice: And you say that's the same story around the world?
HMP: The funny thing is that in the big Prides, like in San Francisco and New York, the same small number of people also do most of the real work.
Gayice: I guess it's often like that...
HMP: The danger is that people will burn out in few years and that happens a lot all around the world. Since '99 many people have been involved for a period of time. But we have been lucky to keep the core together in the Reykjavik Pride committee. The committee meetings are open for all, so everybody can come. And people don't have to do that much. We need people that take on small tasks and deliver. That's the main thing.
Gayice: Will this year event be in any way different from previous events?
HMP: All Prides are different in it's own way. We strife to get interesting artists each year, preferably gay and lesbian artists, but also artists like Andrea Gylfadóttir who is a great friend of the gay community and loved for her talents by all.
Gayice: Any secrets to share?
HMP: This year we have few surprises we want to keep secret for some time more but I promise you, it will be a great fun. I am also pretty sure we cannot have as heavy rain as last year, so we are expecting a big crowd this year, though it is difficult to grow much bigger when you have the third biggest event in Reykjavik after Independence Day and the Reykjavik Cultural Night.
Optimistic about Pride after the first event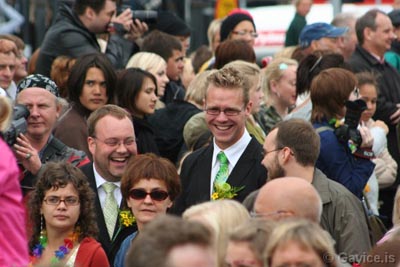 Gayice: Did you ever expect the Reykjavik Pride to be such a big event as it has become?
HMP: I was always very optimistic about Pride after the first event in '99. I do PR work in my real life and I saw the potential. I felt the change in the minds of the general public and the great need in the Icelandic gay community to come out of the closet in public and show everybody how big we are and how proud we are. We have such a colorful community, girls, boys, women and men with great talents in so many fields. When we pull together we can do great things and if we keep connected to the international community the possibilities are endless.
Gayice: Why do you think it has been so successful?
HMP: The success of Gay Pride, in Reykjavik and everywhere else, is the fruit of the struggle of thousands of brave women and men in the past who refused to be depressed, refused to hide their feelings and their nature and demanded the right to their own life and to be proud of who they were. For the biggest part of last century it was the people in the frontline, the ones who made noise, the drag queens and so on. They took the beatings, the shouting and the insults. For the last decades the struggle of these people have given us number of victories. The gay rights movement has also gained a lot from the women's right movement, from the African American civil rights movement in USA and from all general human rights movements.
After the Stonewall uprising in New York June 27th in 1969 something exploded. Lesbians and gay men in the big cities in US realized they had power if they stood together and that was the beginning of Pride. This spirit finally came to Iceland. The great work Samtökin 78 and individual women and men have been doing for the last 30 years changed the view of the general public. We have been educating the public for such a long time that in '99 the moment had come for us to storm the streets with Gay Parade to celebrate our victories, to thank the public and to pay respect to those who fought and are still fighting for our rights. That's why Pride could not fail, just if we did it right and learned from history and those who had been doing it for years.
Pride in our hearts
Gayice: When considering the fact that Reykjavik Pride is one of the biggest event taking place in Iceland, do you think the event itself has changed anything for the local gay community?
HMP: The Pride has changed a lot. The most obvious result is that it grew pride in our hearts; it has literally made us more proud, given us strength and more self-confidence. Pride has also for sure helped the young lesbians, gay men, bisexuals and transgender people to face their own feelings and made it easier for them to come out to themselves, family and friends. There are much more young people coming out with full self-confidence. When you are young and you see 30 thousand people go out on the streets under the banner of Gay Pride, you get the message it can not be all that wrong to be gay. By that I think Gay Pride has saved lives and made the lives of many so much easier.
Gayice: Reykjavik Pride is attracting more and more tourists, do you have any idea how many tourists will be visiting this year?
HMP: We have no idea about the number of tourists because people do not have to register for Pride and we don't sell any tickets for the Parade. Each year we have many people of foreign origin in the parade, people who live here or who are staying here for a short period of time. Last year more than 300 thousand tourists came to Iceland so we can with confident say that 25-35 thousand gay tourists visited Iceland last year.
Gayice: That is quite a lot when considering the fact that we're so few here.
HMP: ...august is the biggest tourist month so there are hundreds or thousands of gay tourists in Reykjavik in August during Pride. We also know that many gay people spend their summer vacations visiting different Prides every year and our Pride is getting to be very well known.
Gayice: What about tourism in general.the local businesses?
HMP: The gay guesthouses, Room With A View, the Tower and I-12 are always fully booked long before Pride and the gay owned Jómfrúin restaurant is one of the busiest restaurants in the city. The straigt companies like Icelandair and many others in the tourist business are selling Pride packages to Reykjavik so Pride is for sure making pink kronas for the Icelandic economy.
Together we are much stronger than we are alone
Gayice: Now, the InterPride conference will be held in Reykjavik in October tell us a little bit about the conference?
HMP: InterPride has an annual World Conference in October. We made a bid for the 2004 conference at the World Conference in San Francisco in 2002 and got it. It is only the second time the conference takes place in Europe, the first time being Glasgow in '99. At the conference Pride organizers from all over the world come together to work in workshops to learn from each other how to make Pride a successful event. It is a huge task to make an event like Gay Pride. There are so many things you have to take in consideration. You have to be in good relationships with the city, the police, shop owners, club owners, the press and so on. So what people do at the conference is to share the "know how" so people don't have to invent the wheel all the time. It is also very important to meet people from all around, the same pride-crazy people you are, to make human contacts and friendships, to emphasize that together, globally, we are much stronger than we are alone.
Gayice: How many people will be attending the conference?
HMP: We are hoping for 150 - 200 delegates and even more. The biggest InterPride Conference was in San Francisco in 2002 with 260 delegates.
Gayice: Is it important for the local community to host a conference of this sort here in Reykjavik?
HMP: Yes it is. It gives lesbians, gay men, bisexuals and transgender people the chance to meet other people from different cultures and countries and learn from them and share with them. Great ideas always come when people from different countries and cultures meet, and that is what Gay Pride is, a great idea which we have to nourish and take care of like it was our own baby, because that is exactly what it is.
Gayice: Anything you want to say in the end...?
HMP: Time flies fast - so I just want to urge people who want to make a number for the parade to start working on their ideas and to contact the Pride committee so we can make space for them in the plan. We also need volunteers to sell our flags and T-shirts and so on, so we get some money to pay for all this. It cost like 8 million kronas to make Pride so all help is welcomed. Happy Pride everybody! Or as InterPride has chosen as the international theme for this year: Vive la Différence!
Gayice: Heimir, thanks so much for your time and good luck with everything!
Visit Reykjavik Gay Pride website for more information about the event