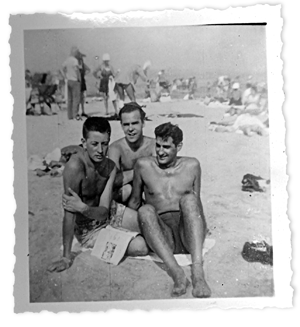 As the MSC of Iceland float slowly makes its way down Laugavegur Main Shopping Street during the Reykjavik Gay Pride parade, he stands tall and proud on the platform and waves to the audience. Þórir Björnssson never misses the parade, his sense of duty having been implemented as the virtue above all other virtues during his years in the Canadian armed forces. For years he has participated in the Pride-parade, always at the same spot and of course always in uniform. Ironically, though, Þórir is not always this easy to find, for he is a true cosmopolitan and has homes in London and the Canaries as well as being a regular visitor of Reykjavík to keep in touch with his friends and acquaintances. Þorvaldur Kristinsson sat down with Þórir Björnsson for a little chat.
We first met in London in 1985 when he invited me to join him for "Uniform Night", an event held at that mammoth club Heaven, which now no longer exists. Since then I have been privy to Þórir's vast treasures of stories, but it wasn't until May of 2008 that we gave ourselves the time to sit down and talk about the old days. We met at his house in the West Side of Reykjavík during the early spring. He gave me all the time I asked for and generously reminisced of his past as we flicked through photo albums in order to immerse ourselves in the past. Because Þórir Björnsson can recall a great deal of history, having been born in 1926, a Reykjavík-boy from head to toe, and raised in the heart of the city, at Laugavegur 8.
***

I grew up during the banal years of the repression and I actually don't think much interesting happened in my life until the English army arrived to occupy Reykjavík in 1940. By then I was fourteen years old, and all of this was extremely exciting and new to me. I remember I had a particular interest in the uniforms of the soldiers. All boys are interested in uniforms, but as far as I was concerned, there was something else and more that fascinated me. This was the time I met the first love of my life, who wore a Scottish kilt up at Skólavörðuholt where he lived at the army base camp. I was fifteen years old, and he a twenty-three year old lieutenant in Her Majesty's Corps. Somehow we got to talking and then meeting, and there is not much more else to say about that other than we became enamored with each other.
This was extremely exciting but also strange, and I must admit that for a week after our first romantic encounter I had trouble dealing with myself. I thought everyone was staring at me and I blushed at the very mention of my name. But then the guilt slid away and since then I have never felt it when it comes to affairs of the heart in regards to other men. When I think about my years as a teenager, only good memories surface.
With the officers in Laugarnes
The English lieutenant left Iceland, but by that time I was better acquainted with this particular world, and at 17-18 I had joined the cliques that frequented the soldiers' balls. In one of those parties I met an American doctor who worked for the armed forces at Laugarnes Hospital. I felt my secrets were safe with him from the very moment we first met, he was such a cautious man, highly educated and quite sophisticated. As a sidenote, his family couldn't have been more different from him; he'd came from a family of gangsters in New York, but had been raised outside of all criminal activity. Those people were already thinking ahead, trying to educate their clan in the ways of the civilized world and trying to keep their offspring away from the filth. I happened to meet his mother and sister in America when I found him there, years later, and they, too, were wonderful people.
This friend of mine had a clinic at the Hospital, and within it a large private office for himself and there we made love. He was extremely considerate. When we had set an appointment, he sent a car for me that always picked me up at the same corner. Then we drove to Laugarnes and after we had made love I was sometimes invited to dine at the Officer's Club in the same building. I never spent the night, though, or how would I have explained that to my family? But I was always escorted back to the very same corner I was picked up at. They knew how to behave, those gentlemen. And you can only imagine how novel this was for a young kid who had barely stepped out of the city. This went on for about a year and a half.
I especially remember how generous he was, he gave me presents, shirts and ties, but truth be told I got into some trouble for that. I lived with my mother because my parents had divorced when I was thirteen. How was I to explain my new American clothes to my mother? It was quite impossible, so I never took my gifts home. Except for chocolates and candy, that was another story. It was common for the soldiers to give those things to the Icelanders.
Out of a small, narrow world
Þórir remembers meeting local girls and boys during the occupation era, how they became friends and had fun together. They frequented several joints of the city, Hot & Cold and Café Coal, West-End in the west-side, and lived through several adventures, "far too many adventures", as Þórir himself puts it. Those were the kids who tried as best as they could to get to know the English and American soldiers. They went to the dances organized by the armed forces, held in a large house at Rauðavatn. And even though Þórir never saw two men dance together, the boys had a way of finding each other.
Most of the time these encounters were flings and one-night stands, but several of us hoped for something more, and what we were really looking for was a way out of our small, narrow world. The girls sometimes caught husbands, but the flings usually lasted shorter for the boys, the situation for the soldiers was similar to the Icelanders, they had to keep a low profile. Many of them also had wives and children who waited at home. But I was quite good at making connections and friendships with some of those lovers of mine, for example I went with one of them for a trip to the north where we stayed with friends of my grandmother's in Blönduós. This was a great event in my life because traveling around Iceland was no easy feat in 1943. This friend of mine was in the air force and I still have a photograph I took of him in a rhubarb-orchard at Blönduós.
With a student's graduation cap in the dark
There was an amazing amount of men who frequented the Reykjavík-harbor during this period, because nearby was a base camp, and so there were always a lot of soldiers by the harbor. When night fell, the Icelandic men started to arrive. Most of them were married, fathers of several children. I remember one who always showed up with his white student's graduation cap in order to impress the soldiers.
I have very fond memories of those years, but it was later that I realized I sailed through life during this period without giving much thought to what my position in the world really was. I never mentioned it to my family during these years that I was gay, but I also never really thought about what they thought of me. I just imagined that they never suspected anything even though I had a few good friends who were known for being gay. Years later, when it dawned on me that my some of my relatives knew all about my sexuality, I was flabbergasted. How could they have known? They had always known, was the answer. This is how green I was. But although I sometimes rushed ahead with little caution, I still had some principles. Mother once said: "If you meet people, always ask yourself first if they're someone you could bring home with you." This advice I have never been able to forget.
Lulu is back in town
In 1946, Þórir went to New York and Boston to seek some medical attention. He was there for little over a year, met friends he had made among the soldiers, went to gay establishments, and made new acquaintances. It was in Boston that he turned 21, now of age and with a right to vote. He'd even stumbled into the world of the elite society crowd.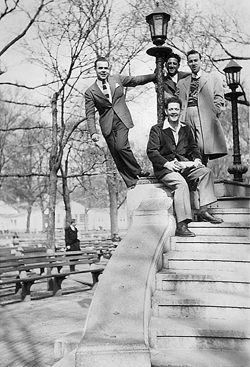 Among the gays I met in America was George Curley, son of the mayor of Boston. He was of Irish descent and we spent several pleasurable moments together. But his world was quite different from mine. Once I was invited to a party of 300 at the mayor's house. George told me that I should by all means bring someone along. Earlier that day, I had by accident stumbled onto Fred, an Italian-American friend of mine, and told him he should join me to the mayor's party. After the party was over, George took me aside and asked what the hell I had been thinking by inviting Fred. I reminded him that he had told me to bring a guest. "Look, Thor, even though we're friendly at the bars, you never bring a daco to your home." All of a sudden I felt wounded, asked him what this daco meant, and reminded George that it had been he that introduced me to Fred. And the answer came briskly: "There's nothing wrong with Fred, per se, he's just an Italian." That was my first introduction to racism. And I feel good to be able to say that I have never discriminated people because of their nationality or their color. Amazingly, looks and figure have never made any difference to me when it comes to my lovers, only the eyes. If I like what I see in their eyes, then I know what it is that I want.
Þórir returned home to Iceland for some time, but then went to England in the early 1950s. He can tell many stories of life in London during those years, he made friends that he is still in touch with today, and got to know gay clubs and bars during a time when oppression and fear were in the air. And there he saw men dancing with each other for the very first time in his life. However, not everyone was so liberal, and when the men at the AMB-club dared to slowdance cheek to cheek, the hostess of the club stormed out on the dancefloor, a quite large and heavyset man with a ladies hat planted firmly on his head, and separated the dancers. For a while, Þórir lived with and worked for English friends in Edinburgh who ran a hotel, and the city is one of his favorites. But again, he returns home to Iceland.
The first time I go to The Borg (a popular Reykjavík club/bar) after I arrive home, a young man approaches me, looks me intensely in the eye and says: "Lulu is back in town." The whole thing felt very embarrassing, I had no idea what the hell was going on, since when had I been called Lulu? "Oh, come on," said my friend who was with me. "They're just playing the song in the club – Lulu is back in town."
I've long been called Tóta
There's a reason why that event has stayed in my mind. It has long been a tradition for gay men to refer to their friends as females. Originally it was all a part of the cover up, if someone overheard their conversation, they'd logically assume that they were talking about girls. But then it just became a part of the culture and several brilliant names were created, Lady Ragnheiður, Malla Million, Bella in the window, and even today new names are created. I've long been called Tóta, and that name was even cemented in poetry when I turned 75 years old. I won't get into it, but this tradition has always irritated me, it is somehow demeaning that men don't respect their given names, almost a disrespect to masculinity.
Perhaps it reminds me of the fact that a lot of us boys were terribly oppressed. Some oppressed themselves and let themselves be oppressed by their circumstance. For example, a lot of them were tormented and pained by the married men who wanted us. During these days most men got married because they didn't know what else they could do, life offered them no other logical choices. And what did they have to bring to us gays? They wanted our bodies but usually had nothing to offer back other than sex, rarely friendships or relationships. After a night with one of those men, you almost had to swear to the Bible not to tell anyone about it. It was absolutely terrible.
Of course the wives knew all about what was going on, but it was never discussed. And sometimes this two faced existence could twist into something absurd. Once, two of my friends had met each other in the back room of a store after it closed. They were quite busy making love when one of their wives suddenly appeared and said: "Stop this fooling around, boys, and come home for some soup!"
It takes one to know one
But Þórir also remember men during the fifties who stood proud and apologized for nothing. One of them was Kjartan Brandsson, tailor for the ladies and an elegant gentleman who lived in Denmark for a long time but moved back home to Iceland during the fifties.
Once, one of the elite ladies of Hafnarfjörður threw a party, and there was Kjartan. The guests filled two large rooms, approximately 60-70 people. The brother of the hostess goes up to Kjartan and bluntly claims: "They say you're "sodo"." Kjartan looks up and says: "They do? Well, then let me shake your hand, because I've been told it takes one to know one." All the while, Kjartan thought he'd perhaps gone too far for this sort of party and expected to be ignored for the remainder of the evening. But things turned out quite differently. He was suddenly swamped by the guests, politicians and elite socialites alike, who shook his hand and introduced themselves. All of a sudden, Kjartan had become the center of the party and he didn't have the faintest idea why.
These men often expected the worst, which made them feel very protective and guarded. Then there were those who sailed through life as they felt it most natural. They existed and there were quite a few of them, those brave boys in Reykjavík during the fifties and sixties, each one rebelling against society in his own way. Among them was Haukur Hafstein, intelligent and dashing, and always impeccably dressed. With his great blond hair and his large nose. He was a staple of the city until he disappeared abroad where he lived for the rest of his life. Iceland was too small for him.
On the rug
That's also how it was with my friend Jóhann Gestsson, barber (also known as Malla Million). He went his own way without giving a damn to what others thought, and he was an exceptionally artistic man. He could sow, he painted and was handy with scissors whether he used them on hair or on fabric. He would perform as a singer with bands, and I remember him singing with Sigrún Jónsdóttir, who was at that time one of Iceland's most popular singers. Iceland was also too small for him, and he moved to New York where he lived for decades. But his apartment was all-Icelandic: his furniture specially designed and delivered across the ocean from Iceland, and always a national delicacy for dinner.
A lot of good things can be said about Jóhann, not least how generous he was. But the man also had a certain weakness, he could be extremely impetuous. Once he came in possession of a five-liter bottle of champagne, which he saw as an occasion to invite a lot of friends over for an afternoon party. When he was getting ready for the party he looked at the green rug in the living room and thought it suddenly very boring. He had head that a local factory had started to manufacture a so-called two-hour paint. He rushed there, bought the paint and when he arrived home he started to lightly coat the rug with the paint, green on green. The carpet looked brand new. Then Jóhann went out to shop for the party. When he got back home he gently put his hand on the carpet, which now felt dry. Soon the guests started arriving, among them Einar Eggertsson wearing hand-made Italian shoes he had just bought. All of a sudden someone exclaims: "What's this on my shoes, they're all green on the soles?" The guests now diverted their attention towards their feet and, quelle surprise, the carpet was still wet at the bottom, the guests' shoes were a few shades greener, and Einar's Italian shoes completely ruined. That's how Million-Dollar Malla was.
Under a crystal chandelier
In the early 50s, some three to four small cliques of gay men had formed and threw dinner parties and had fun together. A lot has been said and written about the clique that hung around Laugavegur 11. There, mainly artists and students gathered, including Elías Mar, Sturla Tryggvason violinist, Dagur Sigurðarson and several others, but I never really got into that group. Still, there were no hard feelings between the boys in the cliques, men simply had dissimilar interests.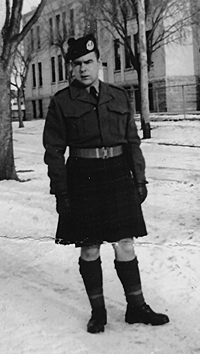 In 1953 the sense of adventure kicked in again and Þórir ventured to Canada where he found a job at the Manitoba Bus Terminals in Winnipeg, and enjoyed his time there. His love of uniforms remained as strong as when he met the boy in the kilt back in the day, and soon he had joined the preparation division of the Canadian army. In 1954 he became a fully valid member of the paratrooper-division of the army and acquired a Canadian passport. He worked awhile for the army at one of the NATO bases in Germany, but when he injured his ankle after falling into a ditch his army career was over and he returned home to Iceland in 1957. During those years, gay men had to be careful. Þórir remembers one of his fellow soldiers who was sentenced to six years of hard labor when it was discovered that he'd been fooling around with other men. In Iceland Þórir has lived for half a century, but for years he has also had another home in England, which he shared with a dear friend, who recently passed away. And it was in London where he met men in uniforms.
It was in 1974 that I saw an advertisement in an English newspaper for something called Rubberman Club, and I got in touch with them. A little after that I came in contact with MSC in London and have now been an active member there for thirty years. They even made me an honorary member. I always felt particularly at ease in these groups. It is a great misunderstanding that they're all about sex, first and foremost they're about friendship and company. I felt this in particular in the early years, when we would go camping together and had fun. In these groups, social status was never a problem, as is very common in England. Those prejudices didn't exist within these Englishmen, it was more common that they'd mock the posh elite. I remember that once two guys arrived for a camping trip with an exquisite crystal chandelier with them, which they then hung up in their tent.
But life isn't all fun and play. I was so lucky to escape the plague, thank god, but because of that I have had to see a terrible amount of my friends succumb to AIDS, hundreds of men, both home and abroad. One of them was Dr. Guðmundur Grímsson, who had worked in New York for a long time. He was 43 years old when he died and was a much better person than most of us, because if he didn't have anything good to say about people, he kept his mouth shut. I stayed with him and two other friends of mine during their last days and sat with them as they passed on. You stay with your friends if you can. But it was difficult.
Only from the Westman Islands.
Talking to Þórir Björnsson is akin to rediscovering the history of gay men over the last seventy years. He remembers every era, each one with its own curiosities, and sees the times objectively with his own keen eyes. And he knows best how the times have changed. Some things for the better, even though he can't deny that he misses some of the things from the days past.
In the fifties, it had become a tradition for the gays in Reykjavík to stop by at one of the fancier bars in town after the shops closed at noon on Saturdays. One of those days I was there when two of my friends, from the Westman Islands, started to kiss, sitting in a sofa by the bar. And the people inside naturally started gazing at them. This prompts one of them to look up from the sofa, straight at the crowd, and exclaim loudly: "Now, I assume everyone thinks we are gay. But we're really just from the Westman Islands."
These days, men have mostly stopped defending themselves against the world with witty comebacks and thus good stories are harder to come by. There have been astonishing changes and breakthroughs in Iceland, but they came late in the game. People were especially slow to network, as I had become familiar with from my trips abroad. Some knew how to throw good parties, though, like Siggi Sy, a tailor who lived on the top floor of Laugavegur 11. He turned fifty four times and threw a flamboyant party each time. But the first real gay-party in Iceland was held in 1971. And by that I mean a real gay party, as fancy as they come, with everything and the kitchen sink thrown in. I even still have the invitation to that party, sent to me by Ragnar Axelsson. But that party was mixed, for it has long been common for Icelanders to invite straight people to our parties. In return, they must participate on our grounds and play by our rules.
I think the biggest social change took place around 1985, and it has a lot to do with Club 22 on Laugavegur. It was the first real gay establishment in the country. And, truth be told, is still the only one to this date. The atmosphere in there was exceptionally good, just as I had been accustomed to from abroad, everybody so welcome. The clubs and bars that came later simply haven't managed to recreate that same atmosphere. Cozy-bar and Q-bar, which came much later, never became real gay bars, only pick-up bars. And people drink a whole lot more and their drinking habits are much worse than back in the day. The atmosphere has turned aggressive in recent years.
One day you'll also be old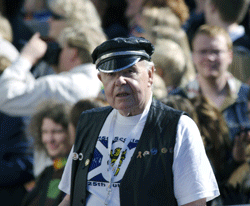 I've made many mistakes in my life, but I have tried to make amends whenever I've seen the opportunity to do so. Sometimes you say things you never meant to utter. I have a tendency to become a little bit sarcastic when spirits are high, and that is my great flaw, unfortunately. But I do what I can to make up for it. And I have also tried to avoid debts. I became an owner of a credit-card for the first time just recently, and not a minute too soon. My health no longer makes it possible for me to drink, and that makes a man more composed, I can be more selective of what people I spend my time with. And of what people I can bring home with me.
Here in Iceland I'm particularly lucky to have good friends, most of whom I have met in MSC Iceland. They are loyal and always invite me to their homes whenever something is going on and treat me like I'm their own age. Reynir Már Einarsson, one of those who have now passed on, always insisted on inviting the older generations to all events. When some people asked what he was thinking by inviting the old guys to the younger men's parties, they always got the same answer: "You just wait, one day you'll also be old." I can't really describe how thankful I am to all of my friends.
Then some more good company awaits me this summer and fall. I'll go back to the Canaries where I spent last winter, and then I'll visit my friends in Scotland in August. I can't miss the Edinburgh Festival, where I take my pick of events that I find most exciting. I especially love what they call the Edinburgh Military Tattoo, an awesome army- and costume show where the boys march back and forth in all kinds of uniforms.
Interview by Þorvaldur Kristinsson.
First published in Reykjavik Gay Pride Program Magazine 2008
www.gaypride.is