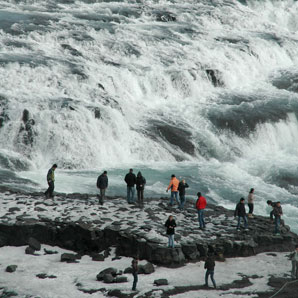 Sapphire waters and a sapphic prime minister are why Tris Reid-Smith and photographer Scott Nunn go to Iceland. There are many ways to take on the Arctic Circle but most people wouldn't choose to do it in just their swimming trunks and with a face covered in white mud. They know nothing.
Because this isn't an endurance test, it's the world's most famous luxury spa – and just one of the wonderfully weird must-sees in Iceland.
The sapphire waters of the Blue Lagoon are just a short bus ride from Reykjavík's main airport at Keflavík. So they are a first or last experience in the country for many.
Tourists and locals alike come to bathe in the geothermally heated pool. There may be snow on the ground around you but you'll be beautifully warm and the mineral-rich waters really do condition and tone your skin.
We smeared our faces with the white-silica mud, provided at the pool's edge, to maximise the exfoliating effect. And you should make the most of the experience by enjoying the steam cave and taking a turn under the hot waterfall that gives you a powerful shoulder massage.
The same geothermal energy which heats up the lagoon provides hot water to Iceland's homes and even acts as under-floor heating for some of the pavements so they don't ice up. While a sprinkle of snow in Britain is a national disaster, our arrival in a blizzard wasn't any problem for the experienced Iceland Express pilot or even for the bus driver who took us to the capital, this is a country built for harsh conditions.
And despite this Reykjavík is cosy and welcoming, not bleak. Last year's economic crisis is causing hardship but everyone we met was cheerful (not to mention dryly comic) and we didn't notice any boarded-up businesses or run-down facilities. You can really believe the statistics that the Icelanders are the happiest people on earth. It's an enjoyable city to explore. The main shopping area is full of cool boutiques and chic bars but it is all on a human scale, almost like a large village.
Popular belief has it that huge cosmopolitan cities are more gay-friendly while smaller, isolated communities are bigoted. Iceland is the exception. Here, on the main street of Reykjavík, at the edge of the earth, the rainbow flag flutters proudly over the Queer Centre. Inside Frosti, the president of the National Queer Organisation, chats to us about how they won extensive rights. The country's small scale actually helps them, if he wants to discuss something with a minister or even the prime minister he just makes an appointment and pops down to see them.
Icelanders are excellently educated and tolerant, violence is very rare. But a small community is not all good news; Frosti admits that if you make a drunken fool of yourself in one of the gay bars, everyone knows by the next day – although that's not a problem for tourists who can always leave their embarrassment behind them.
If there was ever any doubt that the country's queers have come in from the cold, the recent choice of openly lesbian (and civil unioned) Johanna Sigurdardottir to be prime minister and to pull a government back together following the financial melt-down must have wiped that away. She's facing re-election on 25 April but if she doesn't win it'll be down to party politics rather than personal popularity.
From mid-May to mid-July, Reykjavík is a city that never sleeps – you can enjoy daylight 24-seven. But whether it's to look at the stunning view across the bay to the white mountains beyond or to see the twinkling lights of the city, the sky-bar and Panorama Restaurant at Centerhotel Arnarhvoll is a treat for dinner.
The country's national dishes are, err, an acquired taste – rotting shark and singed sheep's head complete with eye-balls. But only more modern dishes, honed to wimpish southerner's tastes, are on the menu at the Panorama, you'll be pleased to hear. To give the chef a thorough workout, have the taster menu with matched wines – admittedly it's not cheap but Iceland is a lot more affordable than it was 18 months ago.
After a good night's sleep we were picked up for a tour of the Golden Circle. Bus tours may not be your thing but all tourists do them here as the most practical way to see the sites and the major operators will pick you up and drop you off at your hotel.
Even in our heavy walking boots we slid around on the thick ice as we stared in wonder at the Gullfoss, or golden waterfall. It drops 32 metres in a spectacular double-cascade, sending up a shower of spray and shooting out rainbows before the water disappears down a narrow ravine. The slippery ice adds to the effect, twinkling in the sunlight. And to think it would have been turned into a hydro-electric scheme if the locals hadn't saved it.
Nearby is the country's other most-visited natural wonder, the Geysir (actually pronounced GAY-zeer), the original hot-water spout that lent its name to all those discovered after it. It now rarely erupts because idiot tourists threw rocks into it in the 1950s and when it does, the water doesn't spurt up as far as it used to. But just next to it is the world's most reliable geyser, Strokkur. We were so wowed when we first saw the plume of water shoot 20 metres into the air that we missed the opportunity to take a photo. No problem, we just waited five minutes and it went off again. And another time six minutes later. While you are waiting, you can look around at the steaming fumaroles, bubbling pots and colourful springs that surround it.
And it's not just natural wonders that are worth visiting. Our tour took us to the ancient seat of the Icelandic bishops to learn about their fascinating, and sometimes tragic history and to the wind-swept hill where the country's parliament met. Johanna must be relieved that she doesn't have to explain her policies on this exposed spot where the bitter cold cut right through my woolly hat and gloves. Interestingly, Iceland is home to the world's oldest parliament, the Vikings started meetings here in 930 AD. Not all the hill's history is positive, though – our guide pointed out a freezing cold pool where women accused of serious crimes would be put in a sack and drowned.
Whether Johanna stays in power or not, we'll be heading back to Iceland. I still want to see the Northern Lights, visit a puffin colony, go whale watching, do an all daylight bar-crawl from midnight to 5am and take a stroll on one of the glaciers. However cold it is, we'll get a warm welcome.
GETTING THERE
Iceland Express is one of the few airlines who fly to the country, they are gay friendly and support queer events on the island. On 1 May they'll be moving their flights from Stansted and going nine times a week from Gatwick to Reykjavík. Prices start at £69 one-way including taxes. See icelandexpress.com or call 0870 240 5600.
We transferred from Keflavík to our hotel with Reykjavík Excursions Flybus. Visit www.re.is. For Centerhotel Arnarhvoll see centrehotels.com or call 00354 595 8540. Also check out panoramarestaurant.is. For tours with Iceland Excursions see grayline.is. For the Blue Lagoon visit bluelagoon.com.
The National Queer Organisation is based at the Queer Centre, Laugavegur 3 (4th Floor), Reykjavík. They have a café and library with books in English and will happily give gay tourists advice and information. Visit the excellent www.gayice.is to find out what's happening on the scene.
WHATEVER THE WEATHER
If you want to experience four seasons in one day, visit Iceland – you'll see all four in half an hour! You may wake up in fog but it'll be clear by the time you have breakfast and if you're caught in a hail storm just duck into a shop, it'll probably be sunny by the time you come out.
And if the rain starts, this traditional local quip is dry enough: "If you don't like the weather now wait five minutes – it'll probably get worse."
Full article. http://news.pinkpaper.com/Feature.aspx?id=1170
Written by Tris Reid-Smith. First published in Pink Paper Magazine, 15 April 2009