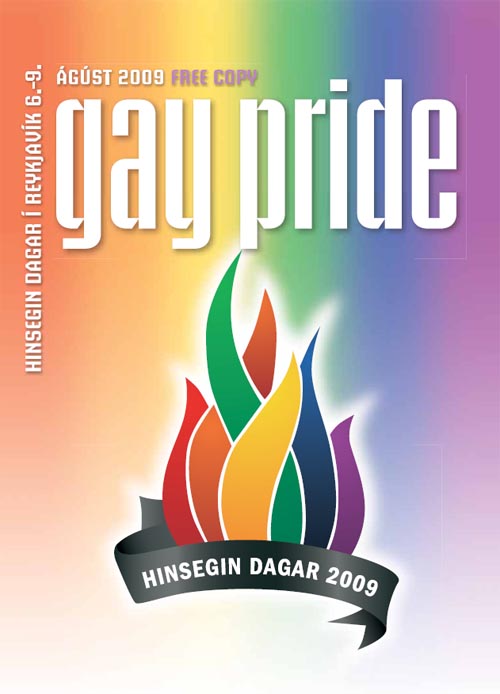 The Program Guide for Reykjavik Gay Pride is out. The Program Guide includes information about the event and performing artist in english. It is also possible to get a free copy in most convinient stores, tourist information centers, hotels, restaurants and bars. The Pride Center will open at Laugavegur 28 (main shopping-street) Saturday July 18th where you can buy tickets, t-shirts and VIP passes. Opening hours are from 1 pm to 6 pm all. Reykjavik Gay Pride openin ceremony is Thursday July 6th at the University of Iceland Movie Theater.
Reykjavik Gay Pride Program
Thursday 6 August
12 Noon
The official Pride Club at Club BARBARA opens
8 p.m.
The famous Opening Ceremony - The University of Iceland Movie Theater. Hosted by Viggo and Violetta. Performers: Bubbi Morthens, Ragga Gísla, the Creamgirls from Norway. After intermission: Concert with Paul Osckar.
GAY PRIDE BEERBURST PARTY AT THE THEATER AFTER THE OPENING. The Pride Club at BARBARA opened to 2 am.
Friday 7 August
Girls' Dance - Club Batteríið starting at Midnight
Boys' Dance - Club London-Reykjavik starting at Midnight
Saturday 8 August
Warm-up at Club BARBARA from 11 am. Line-up of the Gay Pride Parade at Hlemmur Bus Terminal at 12:30 p.m. THE GAY PRIDE PARADE STARTS AT 2 p.m. The parade goes down Laugavegur to the old city center
3:15 p.m.
OUTDOOR CONCERT AT ARNARHÓLL
10 p.m.
Concert - venue to be decided
Midnight
Pride dances - Paul Oscar at Club NASA
Other Pride dances at BARBARA an Q-Bar
Sunday 9 August
At 12 noon:
At Club BARBARA: T-Dance, wild disco from noon and into the night for those who want more.
8.30 pm.
Rainbow Mass at Hateigskirkja Church
Visit www.gaypride.is for more information about the event.